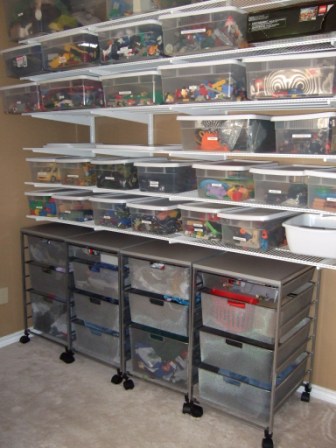 For their toys, I put up 18″ elfa ventilated shelves from The Container Store, and store all their toys in labeled 6 qt., 15 qt., 32 qt., and 66 qt. Sterilite see-through boxes.  There are lots of different brands available, so just look around for good prices.  I chose these boxes because of price and because they fit well together.  The 6 qt., 15 qt., and 32 qt. boxes are all about the same height, and the 66 qt. box (which don't show up in the picture because they are on the top shelf) is as wide as the 32 qt. box and about twice as tall.
For their clothes, I use elfa drawer systems.  I went with these instead of regular dressers so that each child could have his own "dresser," while being very flexible in configuration.  Having them on rolling casters has already proven to be very valuable as I was able to easily move the other boys drawers into the shared room when they had to share one room over the summer.   They are also easy to move to get that toy that invariably drops behind the dressers (which was not the case with their previous traditional dresser).  Putting them under the shelves has the benefit of not taking up additional floor space.
Each child has two drawer systems and I allow them to have one shallow drawer and one medium drawer for non-clothing items (trying to allow them some more space that was their own, but was also contained and manageable).  I chose the 18″ d x 21″ w x 29″ h  drawer system as I felt that would be the most flexible (for example, they could later be converted to be part of a desk system).  In the picture below, the 2 drawer systems on the left are for one child and the 2 on the right are for another child.
Tip: The Container Store has a 30% off sale on all elfa products every January.
The pictures below just show some details on the drawers.  Elfa has back stops to keep the drawer from going out the back, but I found that they sometimes popped out.  I replaced the backstops with very small plastic wire ties which I pulled tight and then removed the excess plastic.  The second picture shows my "child protection" which keeps the drawer from coming out the front.  The wire tie is looped through the mesh and around the runner snugly, but with enough room to still allow the drawer to slide easily.  Then when the drawer is extended, the loop will catch on the front of the runner and hold the drawer in.   All the pictures below are looking at the drawer system from the back.