I started this page many years ago based on the Well-Trained Mind homeschool abbreviations page, and wow! has it grown since then. Even though I am no longer homeschooling (how does the time go by so fast?), I'm still maintaining this page to help other homeschool parents, as I was helped by countless others.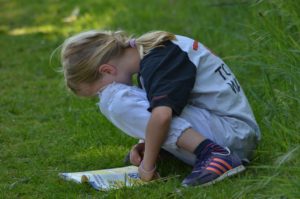 In addition to the homeschool abbreviations, I include curriculum links where applicable and do not have any ads, so you can browse around in peace. Also, I decided a curriculum should not be excluded simply because it doesn't have a handy abbreviation. Just send me a brief description and link to get your favorite curriculum or resource added.
A quick aside — which is correct: home school, home-school, or homeschool? There are three types of compound words: open (with a space), hyphenated (just what you'd think it would mean), and closed (no space or hyphen). Typically, a compound word will go through those forms in that order, although it may get "stuck" at open or hyphenated. Homeschool, however went through all 3 stages in a matter of a few decades, so when I began this journey, I was a home schooler, then a home-schooler, and finally, a homeschooler!
Click here to go straight to the Homeschool Abbreviations section
About the curricula links:  If I could not find a website for the curriculum, then I tried to include a link for the publisher.  I avoided the use of 3rd-party websites and, where I did use them,  identified them clearly as 3rd-party websites.  Sometimes it is hard to tell though, so please let me know if I accidentally used one without identifying it as such.
I intentionally do not include emoticons or generic internet abbreviations because there are already so many sites which have these and there are so many emoticons and abbreviations. My thinking is that the this page should focus on homeschool abbreviations, its area of expertise. YMMV, of course! 😀
Please contact me if you have any comments.
This page contains the following sections:
The Emoticons (Smileys) section contains links to sites with emoticon definitions
The Homeschool Abbreviations section has abbreviations, acronyms, and terms used in the homeschool community, but not commonly used in the general Internet community
Internet Abbreviations
Emoticons (Smileys)
Homeschool Abbreviations
Abbreviation
Definition
100EL
"Teach Your Child to Read in 100 Easy Lessons," a reading instruction book
AAR, AAS
"All About Reading" and "All About Spelling"
ACE
"Accelerated Christian Education"
ACT
"American College Test," a standardized test for entrance to some colleges and universities
ADHD
"Attention-Deficit/Hyperactivity Disorder"
ADD
"Attention-Deficit Disorder," (ADHD is now preferred)
AFT
"American Federation of Teachers," a large association of schoolteachers (NOT the same as the larger NEA), functioning as a labor union in states that permit collective bargaining
AG
"Analytical Grammar" or "activity guide"
AiG
"Answers in Genesis," is "an apologetics (i.e., Christianity-defending) ministry"
AIG
"Academically/Intellectually Gifted"
ALGF
"A Little Garden Flower," a Waldorf based curriculum
ANWOA
"A New World of Adventure," the second book in the Learning Adventures series
AO
"Alpha Omega," a Christian curriculum publisher
AoPS
"Art of Problem Solving" publishes a mathematics curriculum specifically designed for high-performing math students ages 11-18 as well  as preparation materials for contests such as MATHCOUNTS and the American Mathematics Competitions
ASL
"American Sign Language"
ATAWA
"A Trip Around the World," published by Carson-Dellosa Publishing Company, Inc. (item # 0811)
ATIA
"Advanced Training Institute" (Bill Gothard)
ATTA
"All Through the Ages," published by Nothing New Press
AWOA
"A World of Adventure," the first book in the Learning Adventures series
B4FIAR
"Before Five In a Row," preschool literature-based curriculum published by Five in a Row
BA
"Beast Academy," a project from the "math beasts" at Art of Problem Solving that providea a full, rigorous, and entertaining curriculum for aspiring math beasts in grades 2-5.
BB1, BB2
"BigBook" (or "Big Book") of Lively Latin, Volumes 1 & 2
BBOB
"Big Book of Books," published by Dinah-Might Activities. This book does not appear to be in print, but you might be able to find it through re-sellers. Other Big Books are available on Dinah Zike's website
BBOP
"Big Book of Projects," published by Dinah-Might Activities. This book does not appear to be in print, but you might be able to find it through re-sellers. Other Big Books are available on Dinah Zike's website
BF
"Beautiful Feet," a Christian curriculum publisher
BFIAR
"Beyond Five-in-a-Row," upper elementary literature-based curriculum, ages 8-12 published by Five in a Row
BFSU
"Building Foundations of Scientific Understanding," an elementary science curriculum developed by Bernie Nebel. Support forums are available at BFSU Community
BHFHG
"Bigger Hearts for His Glory," published by "Heart of Dakota"
BITM
"Blessed is the Man," Christian high school unit study curriculum for boys by Lauren & Lynda Coats
BJ, BJU, BJUP
"Bob Jones University Press," a Christian curriculum publisher
BP
"BiblioPlan," a classical history and literature curriculum for K-12 Christian homeschoolers, homeschool cooperatives and schools; lesson plans for studying the Ancients, Medieval, Early Modern, and Modern eras over 4 years in repeating cycles; less stress for families and small cooperatives as all students can study the same era together with age-appropriate literature guides and supplementary materials
BLHFHG
"Beyond Little Hearts for His Glory," published by "Heart of Dakota"
BTS
"Building Thinking Skills," published and sold by The Critical Thinking Company (for a time, sales were through a division called "Bright Minds," but now sales are direct)
bump
A term meaning that the message has been resubmitted without changes so that it will show up with newer posts.  Common in buy/sell forums
CBD
"Christian Book Distributors," mail-order book retailer in Massachusetts
CC
(1) "Classical Composition," available from Memoria Press
(2) "Classical Conversations"
(3) "Community College"
CCC
"Christ-Centered Curriculum," a Christian curriculum
CGC
"Considering God's Creation [Not Secure]," a Christian science curriculum published by Eagle's Wings [Not Secure]
CHOW
"Child's History of the World," by V.M. Hillyer
CK,
CKLA
"Core Knowledge," publisher of the NTK books (What Your Nth Grader Needs to Know)" Core Knowledge Language Arts," a preschool through fifth grade language arts program. You can download it for free, or purchase pre-printed materials at Amplify
CLE
"Christian Light Education," a K-12 curriculum published by Christian Light Publications
CLP
(1) "Christian Liberty Press," a Christian curriculum publisher
(2) Christian Light Publications
CM
"Charlotte Mason," 19th-century British educator; her theories
CoFA
"Childhood of Famous Americans" series, published by Simon & Schuster
CPM
"college preparatory materials"
CQLA
"Character Quality Language Arts," a language arts curriculum published by Training for Triumph
CS
"Christian school"
CSMP
"Comprehensive School Mathematics Program" may refer to either the name of a project that was responsible for developing curriculum materials or for the Buffalo State K-6 mathematics curriculum [Not Secure] developed by the CSMP Program
CW
"Classical Writing"
CWP
"Challenging Word Problems" are supplemental materials for the Singapore Math curriculum , but they can be used with other math programs as well
DG
"Daily Grams," daily grammar review workbooks used in the Easy Grammar curriculum
DITHOR
Drawn Into The Heart of Reading, a Christian literature program for ages 7-15 (for use with multiple ages at the same time), published by Heart Of Dakota Publishing
DK
"Dorling Kindersley," an illustrated reference provider
DVT
"Digital Video Tutor" (this abbreviation has several meanings, but this is the most likely meaning in the homeschool context, especially associated with Lial's math curriculum)
DWC
"Drawing with Children," by Mona Brookes, is available at retailers including Rainbow Resource
EA
"Exploring America"
EDsmart
"EDsmart" operates an education and media online business, and it also provides college rankings, review, and ratings, along with other helpful information like Homeschool to College: The Essential Guide
EEaH
"Early Education at Home," a curriculum guide for parents of preschoolers and kindergarteners by M. Jean Soyke; published by At Home Publications
EFTTC
"English for the Thoughtful Child," an elementary grammar text published by Greenleaf Press
EG
"Easy Grammar"
EIL
 (1) Essenitals in Literature — a literary analysis curriculum that features a student textbook/workbook combination with video instruction from teacher, Matthew Stephens presented on DVD over four units: fiction, nonfiction, novel, figurative language/poetry.
(2) Excellence in Literature — classic literature study guides for grades 8-12, plus context resources, including art, music, poetry, author biographies, critical essays, "and more"
EPGY
"Education Program for Gifted Youth," Stanford University project offering multimedia computer-based distance-learning courses for K-college level
ET
"EduTrack," software for student progress tracking and reports to parents
ETA
The most common meaning of this abbreviation is "Estimated Time of Arrival," but in the context of the WTM forums, it may mean "Edited To Add," an abbreviation used to indicate that a forum message was edited to add more information
ETC
"Explode the Code," series of phonics workbooks published by Educators Publishing Service, is available at retailers such as Christianbook
FAR
"Far Above Rubies," Christian high school unit study curriculum for girls by Lauren & Lynda Coats
FIAR
"Five In A Row," lower elementary grades literature-based curriculum, ages 4-8 published by Five in a Row
FIIR, FIR
"For Instruction In Righteousness," a Doorpost product
FF
"First Form" is the first year of a grammar-based Latin curriculum published by Memoria Press; recommended for students who are beginning their Latin studies in 5th grade higher or  have completed Latina Christiana I but who are not ready for Henle (note that Latina Christiana II is being phased out)
FLL
"First Language Lessons for the Well-Trained Mind," written by Jessie Wise, published by Well-Trained Mind Press
FM
"Famous Men" of [Greece, Rome, the Middle Ages, Modern Times], written by John H. Haaren and A. B. Polan.  This series is in the public domain and is available through various publishers such as Greenleaf Press, Memoria Press, and Yesterday's Classics
FP
"FormsPal.com" supports students by providing free high-quality legal templates and information online;.  You can learn more about their support of students on the Student Support page, and there are also PDF Forms related to Education
FUFI
"Further Up and Further In," a study based on C. S. Lewis' The Chronicles of Narnia; published by Cadron Creek Christian Curriculum
GCB
"Great Christian Books," mail-order/retail bookstore in Maryland
GL
"Greenleaf," usually as in "The GL Guide to …"
GLA
"Great Latin Adventures," Latin curriculum for grades 4th-6th published by Classical Legacy Press.  The Great Latin Adventure takes a unique path through Latin grammar so that students do more translation, sooner. It includes extensive derivative worksheets and English-to-Latin translation. It's explicitly Christian (mainly in the derivative work), loose-leaf format
GLP
"Greenleaf Press," publisher of literature-based history study guides and books
GM
"Geography Matters," publishers of Uncle Josh's Outline Maps and other geography helps
GP
Galore Park, UK publisher whose guiding principle of their books "is that they can be used by a pupil working alone."  Curriculum includes the "So You Want to Learn …" foreign language series
GSA
"Great Science Adventures," a multi-grade level curriculum for teacher and students in one book, is published by Common Sense Press
GSWL
"Getting Started With Latin [Not Secure]," a beginning Latin text designed for "homeschoolers and self-taught students of any age" which introduces one new word or idea in each chapter
GTG
"Galloping the Globe," published by Geography Matters
GWG
"Growing With Grammar" is published by Jac Kris Publishing
GWS
"Growing Without Schooling," the oldest homeschooling magazine
HBJ
"Harcourt, Brace & Javonovich," now Houghton Mifflin Harcourt, a secular curriculum publisher
HEM
"Home Education Magazine", a homeschooling magazine which operated from 1984 to approximately 2014
HFHTT
"Hearts for Him Through Time," published by "Heart of Dakota"
HM
"Houghton Mifflin," a curriculum publisher
HMSC
"homeschool" (HMSC is useful as HS may be ambiguous)
HMSCing
"homeschooling"
HMSCer
"homeschooler"
HO
"History Odyssey," study guides of the literature, historical events, and geography of given time periods, published by Pandia Press
HOD
"Heart of Dakota," a Christian homeschool publisher
HOE
"Hands-on Equations," invented by Dr. Henry Borenson
HOP
"Hooked on Phonics," a commercial reading instruction curriculum
HOW
"Heart of Wisdom" unit studies, available at retailers such as Christianbook
HS
(1) "high school"
(2) "homeschool or home school," use HMSC to be unambiguous
HSing
"homeschooling"
HSer
"homeschooler" or "high schooler"
HSLDA
"Home School Legal Defense Association"
HST
(1) "Homeschool Tracker," homeschool planning and record keeping software; HST may refer to either the free Basic version or the Plus version (see also HSTP)
(2) "Home Science Tools," home science equipment supplies
HSTP
"Homeschool Tracker Plus," homeschool planning and record keeping software; the Plus version contains additional features not found in the free Basic version
HSTUAC
"Home School Train Up a Child," a mail list (unrelated to the book To Train Up a Child)
HTHL
"Here to Help Learning," a writing program for grades 1-6
HTTA
"History Through the Ages," timeline figures available in print or on CD
HTTS
"How to Teach Spelling," by Laura Toby Rudginsky, published by Educators Publishing Service, a comprehensive spelling curriculum for grades 1-12, available at retailers such as Rainbow Resource
HWT, HWOT
"Handwriting Without Tears"
IBLP
"Institute in Basic Life Principles" (Bill Gothard)
IEP
"Individualized Education Plan," mandated for students in some categories by federal law, intended for all students under some planned implementations of outcome-based education
IEW
"Institute for Excellence in Writing"
ILL
"Intermediate Language Lessons," by Emma Serl
IP
"Intensive Practice" are supplemental materials for the Singapore Math curriculum , but they can be used with other math programs as well
IRA
"International Reading Association," an organization of persons involved in reading instruction in schools, now the International Literacy Association
ISP
"independent student program" (note that in the general Internet community, ISP is a common abbreviation for "Internet service provider")
ITBS
"Iowa Test of Basic Skills," a standardized achievement test given to schoolchildren, much like the Stanford Achievement Test; available through BJU Press Testing and Evaluation
JAG
"Junior Analytical Grammar"
KAH
"Training our Daughters to be Keepers At Home," same as TOD
KBC
"Knowledge Box Central", specializing in educational materials, including lap books, copy workbooks, note booking pages, games, etc
KF
"Kingfisher," a publisher, bought by Macmillin Publishers
KISS
"KISS," a free text-based, cummulative grammar curriculum for the 2nd through 11th grades
KOTF
"Keepers of the Faith"
KQ
"Knowledge Quest," publishers of historical outline maps and timelines
LA
"Learning Adventures [Not Secure]" or "language arts"
LC
"Latina Christiana," an elementary Latin series published by Memoria Press
LC1, LC2
"Latina Christiana" Volumes I & II, an introductory Christian Latin curriculum for grades 4th-9th, published by Memoria Press; Volume II is being phased out and replace with First Forms for students who are in the 5th grade or higher or have completed Volume I but who are not ready for Henle
LCC
"Latin-Centered Curriculum," by Andrew A. Campbell, published by Non Nobis Press
LCT
"Latin in the Christian Trivium," a Protestant Christian 4-year high school Latin program; the series features a connected story about a Roman who finds Christ
LD
"learning disabled"
LFBC
"Landmark Freedom Baptist Curriculum"
LFC
"Latin for Children," an elementary Latin series published by Classical Academic Press
LGTW
"Learning Grammar Through Writing," the grammar supplement to LLATL
LHFHG
"Little Hearts for His Glory," published by "Heart of Dakota"
LHTH
"Little Hands to Heaven," published by "Heart of Dakota"
LIA
"Life in America"
LL
"Lively Latin," a colorful 2-volume Latin program for grades 3rd-6th (see also BB1 and BB2) that includes history, art, and more
LLAL
"Learning Language Arts Through Literature," (more information under LLATL)
LLATL
"Learning Language Arts Through Literature," language arts curriculum using excerpts from literature as the foundation for all aspects of language; published by Common Sense Press
LLB
"Living Learning Books," an elementary science curriculum based on the WTM cycle
LMS
"Listen My Son," a Christian unit study curriculum for high school boys
LoE
The "Logic of English" series provides "multi-sensory systematic phonics instruction through a method that has been scientifically proven to be effective"
LOL
"Lifestyle of Learning," a free monthly newsletter discussing the topics in WWOL (note that in the general Internet community, LOL is a very common abbreviation for "laughing out loud" and more)
LP
Latin Prep, published by Galore Park
LR, LRTEG
"Latin Road to English Grammar," a 3 year Latin program "designed to begin as early as 5th grade"
LTL, ELTL, RLTL, HLTL
"Lessons Through Literature [Not Secure]" programs designed to "take your child from learning to read and write to advanced lessons in grammar and composition": English Lessons through Literature (formerly Language Lessons Through Literature), Reading Lessons Through Literature, and Handwriting Through Literature
MC
"Meaningful Composition," a writing curriculum published by Training for Triumph, available at retailers such as Rainbow Resource
MCP
"Modern Curriculum Press," a curriculum publisher
MCT
"Michael Clay Thompson" language arts curriculum (grammar, vocabulary, poetry and writing) published by Royal Fireworks Press.  Special homeschool packages are available
MEP
"Mathematics Enhancement Programme," a free British math curriculum from the Centre for Innovation in Mathematics Teaching
MFW
"My Father's World"
MkMM
"Making Math Meaningful," a commercial mathematics curriculum, not to be confused with "Math Made Meaningful"
MM
"Math Mammoth," fully reproducible math workbooks and worktexts for grades 1-12 developed by Maria Miller
MMdM
"Math Made Meaningful," a commercial mathematics curriculum from the 1970s, not be confused with "Making Math Meaningful"
MME
"Math Made Easy"
MMM
"Making Math Meaningful" or "Math Made Meaningful", two DIFFERENT commercial mathematics curricula, with almost identical names. Use MkMM or MMdM instead of MMM to be clear
MODG
"Mother of Divine Grace" School, a "Catholic Distance Education Program based on Laura Berquist's Designing Your Own Classical Curriculum."
MP
"Memoria Press," a publisher of classical Christian education materials
MOH
"Mystery of History," published by Bright Ideas Press
MOTH
"Managers of Their Homes"
MPH
"My Pals are Here," Singapore Math science curriculum, grades 3-6
MUS
"Math-U-See," a commercial mathematics curriculum
MWM
"Moving With Math"
MWS
"My World Science," an elementary science curriculum for homeschoolers that is no longer publishing
NAEP
"National Assessment of Education Progress," a testing program in reading, writing, math, and science conducted by ETS for the federal government, formerly online at nces.ed.gov/nationsreportcard and www.nationsreportcard.gov
NCTE
"National Council of Teachers of English," a professional association that has established guidelines for English curricula
NCTM
"National Council of Teachers of Mathematics," a professional association that has established guidelines for math curricula
NEA
"National Education Association," founded in the 19th Century, now the largest association of schoolteachers, functioning as a labor union in states that permit collective bargaining
NHEN
"National Home Education Network," formerly at nhen.org
NL
"newsletter"
NWI
"National Writing Institute", original publishers of Writing Strands and Reading Strands, now at Master Books
OBE
"outcome-based education," a program of purported school reform (variously described as principally a management reform or principally a curriculum reform) already mandated in several states, in experimental implementation in various places
OM
"Oak Meadow," homeschool curriculum and school
OP
"Original Poster" (this abbreviation may be specific to the WTM forums)
OPG, OPGTR, TOPG, TOPGTR
"The Ordinary Parent's Guide to Teaching Reading," written by Jessie Wise, published by Well-Trained Mind Press
PAL
"Primary Arts of Language," a K-2 reading and writing program based on Anna Ingham's award-winning Blended Sound-Sight System of Learning, published by the "Institute for Excellence in Writing" (IEW)
PFRAS
"Phonics for Reading and Spelling," by Bonnie Dettmer, published by Lakemere Publishing (formerly published by Small Ventures), available at Retailers such as Rainbow Resource
PHFHG
"Preparing Hearts for His Glory," published by "Heart of Dakota"
PHP
"Peace Hill Press," publisher of The Well-Trained Mind and other books for classical education, now Well-Trained Mind Press
PL
"Prima Latina," an introductory Christian Latin curriculum for grades K-3, published by Memoria Press
PLL
"Primary Language Lessons," written by Emma Serl, published by Lost Classics Book Company
PP
(1) "Prairie Primer," unit-study curriculum based on the Little House series of books, published by Cadron Creek Christian Curriculum
(2) "Phonics Pathways," a reading and spelling curriculum by Dolores G Hiskes, published by Dorbooks, available at retailers such as Christianbook
PR
"Phonics Road" to Spelling and Reading, a "complete 4-year language arts curriculum beginning as early as kindergarten."
PS
"public school"
PSS
"public school system"
PZ
"Phonetic Zoo," spelling program developed by the Institute for Excellence in Writing (IEW)
R&S
"Rod & Staff," a Christian curriculum publisher (to place orders or to get information, call 606-552-4348; may also be ordered on-line through the Anabaptist Bookstore or through Milestone Ministries)
R.E.A.L
"Read, Explore, Absorb, and Learn Science," by Terri Williams, published by Classical Home Education
RGAA
"Remembering God's Awesome Acts," by Susan Mortimer, published by Eagles Wings
RGCC
"Remembering God's Chosen Children," by Susan Mortimer, published by Eagles Wings
RME
"Reading Made Easy," by Valerie Bendt
RR
"Reading Reflex," by Carmen and Geoffrey McGuinness, published by Free Press
RS
(1) "Rainbow Science," written by Dr. Durell Dobbins, published by Beginnings Publishing House
(2) RightStart Mathematics, a K-4 math curriculum developed by Dr. Joan A. Cotter, who also developed the AL Abacus
RS4K
"RealScience for Kids," published by Gravitas Publications
RSO
"Real Science Odyssey," published by Pandia Press
RTR
"Rome to Reformation," published by My Father's World
SAT
(1) "Scholastic Aptitude Test," a test used for college entrance published by Educational Testing Service
(2) "Stanford Achievement Test," an achievement test used in primary and secondary grades to evaluate student progress, published by Harcourt Assessment
Saxon
"Saxon Publishers", a secular math, science, and phonics curriculum publisher
SE
"Simply English," written by Laurie Hicks, published by Shoelace Books [Not Secure]; ppears to have been replaced by "Simply Language Arts English."
SG
"Simply Grammar," written by Karen Andreola, published by Charlotte Mason Research and Supply
SL
"Sonlight," a homeschool curriculum
SLA
"Simply Language Arts [Not Secure]," written by Laurie Hicks, published by Shoelace Books
SM
"Singapore Math"
SN
"Simply Numbers," written by Laurie Hicks, published by Shoe Lace Books [Not Secure]. No longer in print
S/O
In addition to common internet meanings such as "significant other", it may also mean "springing off" or "spinning off" and is used to indicate that a new thread is inspired by or "springing/spinning off" another thread
SOS
"Switched on Schoolhouse, published by Alpha Omega Publications
SOT
"School of Tomorrow," published by Accelerated Christian Education (ACE)
SOTW
"The Story of the World," a four-volume history series written by Susan Wise Bauer, published by Well-Trained Mind Press
SOW
"Student of the Word," a K-12 Bible-centered homeschool curriculum; appears to no longer be available
SP
"Simply Phonics," written by Laurie Hicks, published by Shoelace Books [Not Secure]
SS
"Sequential Spelling," by Wave 3 Learning, available at retailers such as Rainbow Resource
SSL
"Song School Latin," published by Classical Academic Press, a "playful and light" introduction to Latin, designed for kindergarten through the second grade
SSRW
"Sing, Spell, Read, & Write," a phonics and reading program by Sue Dickson, published by; some books are available at retailers like Rainbow Resource
SV
"Steck-Vaughn," a secular curriculum publisher, purchase by Houghton Mifflin Harcourt
SWB
"Susan Wise Bauer", co-author of The Well-Trained Mind
SWI
Student Writing Intensive," is a seminar published by the Institute for Excellence in Writing
SWO
"Spelling Workout," published by Modern Curriculum Press, available at retailers such as Christianbook
SWR
"Spell to Write and Read"
SWS
"Soaring with Spelling," refers to "Soaring with Spelling and Vocabulary," a K-8 spelling curriculum published by Jac Kris Publishing
SYRWTLF, SYRWTLS, SYRWTLL
"So You Really Want to Learn French/Spanish/Latin," a foreign language curriculum published by Galore Park
TATRAS
"Teach America To Read And Spell," written by Frank Rogers; appears to be out of print
TC
"Treasured Conversations," writing instruction through guided analysis; appears to be out of print
TH
"The Teaching Home," a homeschooling magazine
TOD
"Training Our Daughters to Be Keepers at Home," a Christian curriculum with a home economics emphasis, written by Craig Ward, published by Smiling Heart Press
TOG
"Tapestry of Grace"
TT
"Teaching Textbooks," a multi-media math curriculum
TQ
"TruthQuest," a literature-based history study
TUAC
(1) "To Train Up A Child," written by Michael Pearl, published by Church at Cane Creek / No Greater Joy Ministries
(2) "Home School Train Up a Child," a mail list unrelated to the book above; use HSTUAC to be clear; may be defunct
TWSS
"Teaching Writing: Structure & Style," a teacher instruction course published by the Institute for Excellence in Writing
US
"unit studies"
USB
"Usborne," a publisher
VP
"Veritas Press," a Christian Classical publisher and academy
W&M
"William and Mary" curriculum targeted to the gifted K-12 student; developed by the "Center for Gifted Education" at the College of William and Mary
WEM, TWEM
"The Well-Educated Mind," a guide to classical education for adults by Susan Wise Bauer, published by Well-Trained Mind Press
WP
"Winter Promise," a history curriculum based on "literature, activities, and memories"
WRTR
"Writing Road to Reading," published by Spalding Education International
WS
"Writing Strands," writing curriculum designed for preschool through high school; written by Dave Marks, the founder of the National Writing Institute (NWI), now published by Master Books
WT
"Writing Tales," writing curriculum designed for use in homeschool or co-op settings for 3rd through 5th graders
WTM, TWTM
"The Well-Trained Mind," written by Susan Wise Bauer and Jessie Wise, published by Well-Trained Mind Press
WWE
"Writing with Ease," Susan Wise Bauer's writing-instruction series designed for elementary-aged writers and older students who still struggle; published by Well-Trained Mind Press
WWOL
"Wisdom's Way of Learning," a book by Marilyn Howshall
WWW
"Winning with Writing," a 1st-8th grade writing program by Tamela Davis
YRS
"year-round schooling"
n/a
Anatomy Now provides medically accurate anatomical models, medical charts, reference materials and training aids for students
n/a
"A Guide to Online Homeschooling"; although the site is geared toward online education, this resource provides a very nice overview for parents considering homeschooling
n/a
Phonemic Awareness: Games and activities to prepare children for learning to read; also called Pre-Phonics. For more information, please visit SightWords.com